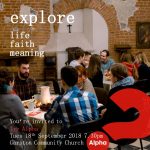 Alpha is a series of interactive sessions that freely explore the basics of the Christian faith. No pressure. No follow up. No charge.

We believe that everyone should have the chance to explore the Christian faith, ask questions and share their point of view - wherever they are in the world
Whether you have been a Christian for many years – (or even all your life!), or are just starting to wonder if there may be more to life, Alpha is an opportunity to explore life and the Christian faith in a friendly, open and informal environment.
There will be weekly meetings on Tuesday evenings at Garston Community Church, 7.30 – 9.45 p.m. First meeting ​on Tuesday 18th September 2018 ​
​​The evenings will start with a meal, followed by a video. After that there will be a chance for questions and discussion in small groups.
Garston Community Church Tel: 01923 677386 or e-mail office@garstoncommunitychurch.co.uk