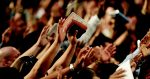 Baptism in the Holy Spirit is one of the three foundational steps in the life of a disciple of Jesus Christ. It usually follows conversion by being 'born again' and water baptism. Sometimes God will baptise with His Spirit at conversion, or when the person is being baptised in water.
Jesus came to earth to baptise his followers with the Holy Spirit. (Matthew 3:11, Mark 1:8, Luke 3:8, John 1:33.)
The Holy Spirit 'came upon' Jesus when He was baptised in the river Jordan by John. Jesus taught that we needed to have 'living water'; that was the Holy Spirit. He told His disciples before the start of His church that they should wait in Jerusalem 'until they received power from on high'. This a number did at Pentecost, with visible effects.
After that at each occurrence when people became Christians, the apostles were anxious to come and lay hands on them to receive the Holy Spirit. See Acts 8:14-17. The Christians there had clearly been born again by the Spirit, but the apostles came and laid hands on them to receive the Holy Spirit.
With the Holy Spirit within you, by being baptised with the Spirit or being filled with the Holy Spirt (being filled is the description given in Acts), you have access to the special supernatural abilities of God the Holy Spirit, such as healing, miracles, prophesy and tongues (see 1 Corinthians 12). Having the Holy Spirit within you, you should show His nature in your life, which is love, joy, and peace.
Paul states that we need to keep being filled with the Holy Spirit (Ephesians 5:18,19.)
What is the criteria to receiving the Holy Spirit.
Believe in Heart.

But what does it say? "The word is near you, in your mouth and in your heart" (that is, the word of faith which we preach): that if you confess with your mouth the Lord Jesus and believe in your heart that God has raised Him from the dead, you will be saved. For with the heart one believes unto righteousness, and with the mouth confession is made unto salvation. For the Scripture says, "Whoever believes on Him will not be put to shame. Romans 10.8-11

If You Believe. You are Now Sealed With The Holy Spirit

In Him you also trusted, after you heard the word of truth, the gospel of your salvation; in whom also, having believed, you were sealed with the Holy Spirit of promise, who is the guarantee of our inheritance until the redemption of the purchased possession, to the praise of His glory. Ephesians 1.13
What is the evidence you have received the Holy Spirit? A transformed life and a desire to follow Christ. You have received the free gift of Salvation into your hearts. Ephesians 2:8-9 For by grace you have been saved through faith, and that not of yourselves; it is the gift of God, 9 not of works, lest anyone should boast.

If you have any questions, please contact us