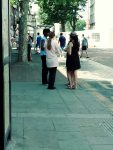 ​Watford Outreach 7/7/2018
​A hot day in Watford town centre where we were joined by our brothers and sisters from different areas around London to proclaim the Kingdom of God to the people of Watford.

Some people felt the tangible presence of the Lord and many divine appointments were created. A woman who was visiting from South Africa received healing for her back and left pain free after years of pain.

A man with anger issues asked if we could pray for him after prayer he said he immediately felt lighter and calmer. The Saints had many interactions on the street sharing with those who were willing to listen.

A lady who was burden with many issues surrounding her family came to Watford to find some quiet time on her own made her way to us and received prayer, she left us feeling hopeful after hearing our testimonies about what God has been doing.

A homeless woman received prayer and also got to hear a testimony of another homeless person who was rehomed, this gave her real hope and encouragement. She also experienced the tangible presence of the Lord as we prayed for her. Another woman came to us with her pet dog who was recovering from an operation the team prayed on the dog and the owner was touched as the dog was precious to her. This causes her to bring a friend for prayer who had addictions. He was grateful but not really receptive, but we trust the Lord has started to work on him.

The gospel was preached and some listen while others ignored what was being said. However, the preaching did touch some people with one man coming forward with questions.

Hundreds of tracts were given out and many other interactions were taking place.

A sister who joined us for the first time would also like to share her experience on the day.

Amazing, amazing, amazing! Still can't believe how easy it was! I felt that the ground was really easy, people's hearts were soft, (so grateful to the Lord). Those who I spoke with were receptive, they listened to me sharing with them their need for a Saviour, the issue of the human race not being in right standing with God and the way of reconciliation (Jesus).

Those I spoke with were also open to receiving prayer and allowed me to pray with them.

I'm excited and looking forward to going out again, in a few weeks time with the team, not only to see how the Lord will use me, but also to learn how to follow Holy Spirit, so that I can be more effective in winning those that do not have a relationship with Jesus yet.

The scripture tells us that, "those that win souls are wise!"