Watford Healing Outreach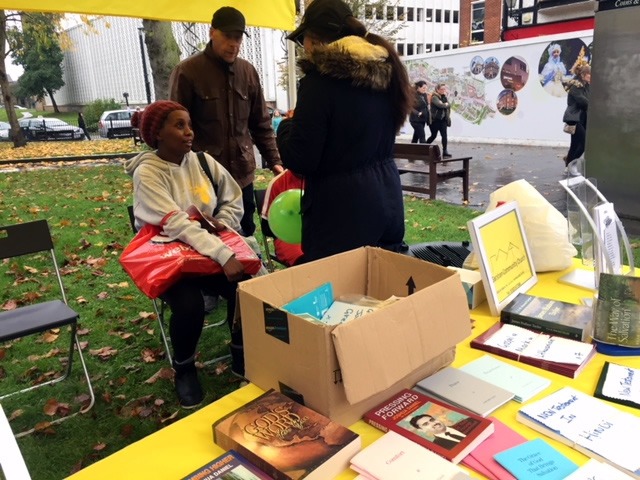 ​Watford Outreach 4th November 2017

A wet start soon turned into sunshine as the Lord brought people to the Free Healing Gazebo.

A young man asked for prayer on his knee his face lit up as the pain went instantly. An elderly man asked for prayer for his son and we expect a good testimony as distance is nothing to the Lord. We also receive testimony from regulars who experience dramatic improvements in physical and emotional healing.

Close to the Gazebo entrance, Lil received deliverance from addiction and illness and felt something leave her. Pain in her neck and shoulder left her body, she also experienced the power of the God through her body and continued to feel His power sometime after ministry. Hallelujah! Her companion also received prayer and believe God for his total salvation.

Cautiously walking with a limp a man came and asked us to pray for pain along his leg, after prayer he was instantly healed and we witnessed him running away to catch up with his friends. He was visibly touched and in some shock, as he ran off.

A young boy directed his mum to us who suffered from migraine headaches after prayer she was healed instantly her children were given a new testament and some gospels to take home. We know God has blessed this family as they came all the way from Golders Green to do shopping and noticed our Free Healing Gazebo.

We were asked to pray for a family in Ghana the lady who asked for prayer for her family also received prayer for herself as the pain in her hip and legs left her. She was greatly encouraged and took some Gospels to send home to her family.

A mother and son each received prayer, the young boy was amazed as he felt the presence of God on him, his words to his mum was"Wow".

A woman walking along on crutches was stopped by the team and received prayer on her hip and leg, she rushed off after prayer as she had to meet someone. We noticed as she left us on how fast she was now able to walk. We believe God for her complete healing.

As our team were preaching on the mic shoppers heard the gospel message and many received gospel tracts. Also, numerous people are walking past saying Free Healing and we know this will open a door for us to minister to them in the future.

We witnessed God's Grace today in all the people who came and received. We thank the Lord for His faithfulness and mercy that many will be granted repentance and come into His Kingdom.
Join Us – We are outside St. Marys Church, Watford high street every second Saturday from 12pm -3pm
If you have a heart to reach the lost, heal the sick and share the good news of the Gospel of Jesus Christ please join us. We pray, preach and also give out tracks and bibles. Please contact us here or call David on 07947 37 69 38