Watford Outreach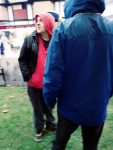 ​Watford Outreach Update 18/11/2017

As it rained today in Watford the Lord was busy working in us to reach the lost through preaching, handing out gospel tracts and laying hands on the sick.

Sam who was traveling from Waterloo came to us for back pain after prayer his pain went instantly and he went away with some bible tracts and books.

Ashley came three times for prayer with pain in his foot each time he was healed. The last time, we said to him, you command it to go in Jesus Name. He came back later and said it was a miracle, the pain came back and he told it to go. It was genuinely shocking to him. We told him, do likewise for others. If they have pain, just place your hand on them and command any pain to go. He's going to be a disciple of the Lord.

A lady was given a gospel tract then asked for prayer for her mobility problems she walked away happy after receiving from the Lord.

An elderly gent who received prayer some weeks ago for his cataracts wanted to share on how the cloudiness on his cataracts are beginning to get clearer and clearer.

We prayed for people with epilepsy and diabetes and know God sent His Word and healed them.

As the gospel was being preached to the people shopping in Watford today we know that over 300 gospel tracts were given out telling people the best present this Christmas is not found wrapped under the tree but the baby wrapped in swaddling clothes in a manger. The gift from God that keeps giving. The new Christ tracks contain the true Xmas message; Isaiah 9:6 For to us a child is born, to us a son is given, and the government will be on his shoulders. And he will be called Wonderful Counselor, Mighty God, Everlasting Father, Prince of Peace.

To His Name be all Glory Honour and Praise!
Join Us – We are outside St. Marys Church, Watford high street every second Saturday from 12pm -3pm
If you have a heart to reach the lost, heal the sick and share the good news of the Gospel of Jesus Christ please join us. We pray, preach and also give out tracks and bibles. Please contact us here or call David on 07947 37 69 38